BirthStar® Target Date Funds: Investment approach
What is a Target Date Fund?
A Target Date Fund is an all-in-one investment strategy offered as a single fund for convenience, consistency and cost efficiency. The target date in the name of the fund is the year you expect to start taking your money back out. The time frame you want to invest for is one of the key things to consider when deciding on the level of risk you are willing or able to take when investing. Target Date Funds are designed to help manage this for you by gradually moving through different risk profiles – from higher risk to lower risk – on approach to the target date. This is so that the level of risk is appropriate to the time frame available.
If you are far from the target date, you may be more able to take some risk to seek out returns. If you are at or after your target date, you may want to take less risk with your investments to support expected withdrawals.
The move from higher risk assets to lower risk assets inside each fund is managed gradually over time, and is presented below.
Architas BirthStar® investment strategy
This chart shows how the mix between higher risk and lower risk assets inside a Target Date Fund gradually changes over time. The mix of assets over time is known as the "glidepath".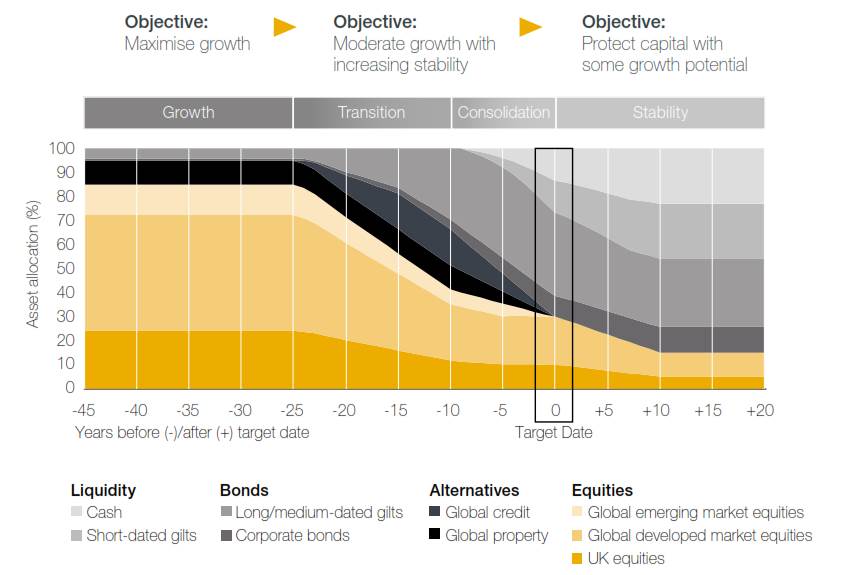 BirthStar® Investment Process
Managing your Target Date Fund
Architas is a London-based investment specialist with £13.3 bn Assets Under Management* (AUM) that is 100% owned by the AXA Group. Architas was formed in 2008 to help investors meet their investment goalsthrough a range of multi-manager and multi-asset solutions. Architas is responsible for product oversight, product management, fund administration and risk management for the Architas BirthStar® Target Date Funds.
The Architas BirthStar® Target Date Funds are managed by AllianceBernstein Limited, part of the global asset management group, with $473 bn AUM*. AllianceBernstein traces its origins back more than 45 years and is 60% owned by the AXA Group.
The funds are managed in London by David Hutchins and Karen Watkin at AllianceBernstein Limited supported by a global multi-asset solution team of 22 investment professionals with an average of 18 years experience – for more, see Meet the Managers. A rigorous and robust investment process is summarised below.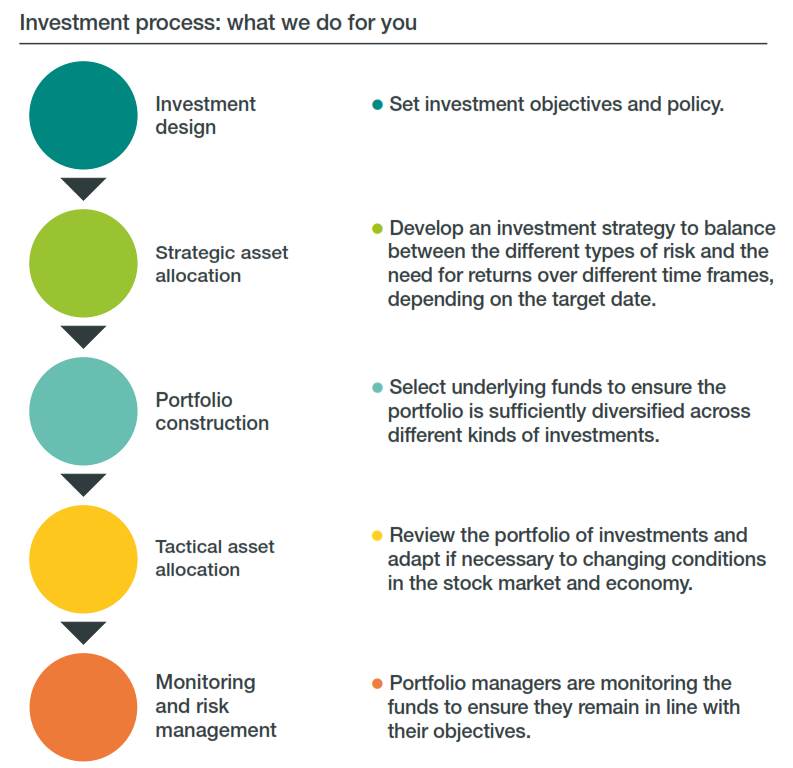 BirthStar®: Things to consider before investing
Make a plan
Making and managing an investment plan to meet your needs and goals requires careful consideration of how long you can invest for and when you need your money back. Time frames vary for different goals and will affect the type of risks you can take on.
Spread your risks
When choosing investments for your goals, it is important to spread your money across different asset classes, whose prices may move in different directions. This 'diversification' can potentially help to smooth out returns while still achieving growth, and reduce the overall risk in your portfolio. Target Date Funds can provide this diversification for you.
Consider your risk appetite
Risk appetite means your personal circumstances (how much you can afford to lose or 'capacity for loss'), your investment goals (time frame and need for returns), and your personal attitude to risk. Of these three things your capacity for loss and your investment goals are most important. Target Date Funds could help you invest towards a goal as they aim to provide a level of return that is suitable for the time frame you are investing for. By contrast, personal attitude to risk is hard to measure and can be changeable, what feels comfortable one day may not the next.
Consider risks and return
Investments cannot provide the same degree of protection that savings accounts provide such as ease of access, security and certainty of return. However, to get higher returns than the returns available on savings accounts, you may have to accept higher risk. In general, the older you are the less likely you will want to expose your investment to market risk. Target Date Funds can help manage this for you as the level of market risk decreases as time goes on.
Time and confidence
Creating and managing an investment portfolio to meet your goals can take as much or as little of your time as you would like. Some people enjoy designing and monitoring an investment strategy that considers all these factors and are confident about making investment decisions based on their own research.
But if you don't have the time or inclination to be hands-on in managing your investments, or if you only have a small amount of money to invest, Target Date Funds, which do some of the work for you, could help form part of a solution.