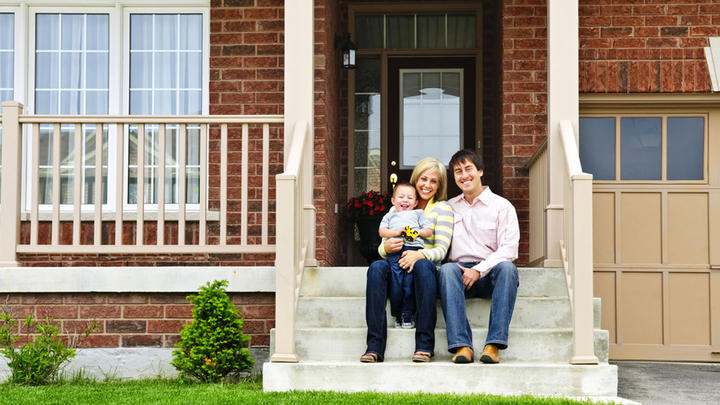 Ten years ago...
MySpace was the dominant social network.
Barely anybody had heard of YouTube.
And these were the top smartphones you could buy…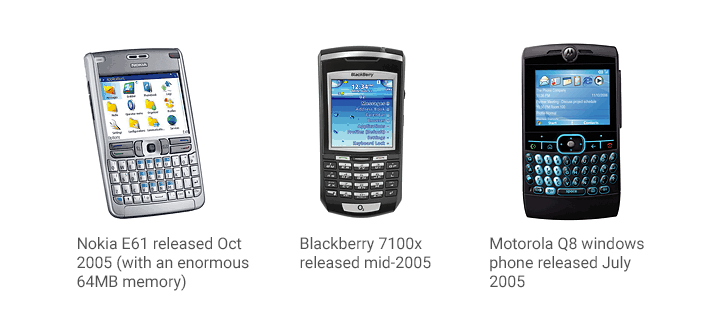 …Ten years can feel like a long time.
So it's no surprise that ten year fixed rate mortgages tend to be scarce. A lot can change in a decade. In 2005 the Bank of England base rate was 4.5% – nine times higher than today. There's an understandable aversion to that length of commitment.
But the current rock-bottom base rate can't last forever. With the likelihood of interest rates rising in the near future, homeowners and first-time buyers are looking for fixed rate deals that offer security against rising payments.
So, would you consider locking down your mortgage rate for a full ten years?
How about if you were free to leave after five?
This is the unusual twist offered by a new type of mortgage from TSB. They've called it the Fix and Flex. If you're looking to beat a future rate rise, these mortgages could provide certainty over your monthly payment. Unusually, they do this without tying you in for the whole decade.
We're taking a look at the potential benefits and drawbacks of this deal.
See the Fix and Flex mortgage range
View TSB's 10-year Fix and Flex range in our mortgage comparison tables.
A new breed of mortgage: the long fix with a twist
TSB's Fix and Flex mortgages offer a fixed rate for ten years, but give you the option to leave after five years with no financial penalty. They also have some of the features of a flexible mortgage, such as the ability to overpay and take repayment holidays. Another stand-out feature is that there's £0 product fee across the range.
We see this as a rare moment of genuine innovation in the UK mortgage market. When TSB announced the Fix and Flex range it was based on market research suggesting that:
Over half (55%) of British homeowners with a mortgage are worried about an increase in the Bank of England's base rate and the effect it could have on their mortgage payments.
Two-thirds (65%) of people would consider taking out a 10 year fixed rate mortgage.
But of those, nearly three-quarters (72%) are concerned about being tied in for 10 years or having to pay an early repayment charge should they need to change their mortgage deal.
What makes this deal different?
There are, at the time of writing, around 40 ten year fixed rate mortgages on the market, with initial rates starting from 3.24% (from Nationwide – a little lower than TSB's cheapest rate).
"The biggest attraction of this mortgage is that it behaves like a five year fix – you can leave halfway through if something better comes along."
However, TSB's offering is the only one we're aware of that has such a short tie-in, and if you were to "want out" after five years the difference could be stark.
For example: the Nationwide mortgage has early repayment charges at 7% of the loan amount to be paid within four years, which then decreases by 1% for every remaining year of the ten year initial term. That means if you wanted to remortgage after five years with a mortgage balance of £120,000, you would face £7,200 in charges.
That's what we think sets this TSB deal apart.
Here are the other key details you need to know:
The interest rate you pay is fixed for ten years, so your monthly payments won't change until 2025.
There are early repayment charges (ERCs) for the first five years only, starting at 5% and decreasing by 1% each year. There is no ERC if you leave after five years.
Although there is no product fee, all TSB mortgages come with a "mortgage account fee" of £265.
You can overpay up to 10% of the loan balance each year for the first five years, fee-free. After five years you can make unlimited overpayments.
Rates start at 3.34% for loan-to-value (LTV) ratio up to 60%, rising to 4.44% for an LTV between 85–90%.
Call TSB for more details: 0330 017 4032
Who is this mortgage right for?
These mortgages are available to first-time buyers as well as those remortgaging for a better deal, and could work for those who want the certainty of knowing exactly what their monthly payments will be for the next ten years. On the other hand, the ability to get out after five years offers some flexibility for those who are nervous about making a ten year commitment.
The fact that there are no product fees is great for buyers who want to put as much of their savings as possible towards the deposit. There are five different levels of maximum LTV from 60% to 90%, so these deals are accessible to pretty much anyone who is ready to get a mortgage, provided you can meet the usual lender affordability criteria.
Remember that if you're remortgaging, your current provider may charge you an exit fee to switch.
The verdict: security with added flexibility
If you're looking for certainty over your monthly payments, you can't get much more certain than a ten year fix.
But the biggest attraction of this mortgage is that it behaves like a five year fix – you can leave halfway through if something better comes along. If you decide to move house, the mortgage is portable to a new property.
If rates should fall during your fixed period, you could end up paying more than the leading market rate – although with the Bank of England base rate at 0.5%, it's hard to imagine interest rates going any lower. YourWealth's Financial Product Manager, Katie McMahon, had this to say:
"The economic environment of low inflation, and the expectation that interest rates will stay lower for longer, has meant that banks are able to offer these long term deals.
"If you fix for ten years, you could have paid five new arrangement fees in this period."
"I can see the appeal for borrowers, especially young families, for whom budgeting and keeping their expenditure fixed is essential. It also offers flexibility, allowing people to easily accommodate a change in circumstances after five years.
"Although the rates are higher than traditional two, three and five year fixed rates, the fact that this product has no fees could prove great value for some people. If you fix for ten years you could have paid five new arrangement fees in this period, and the cost of this alone can be in the region of £5,000.
"As with any mortgage deal it is always worth researching the true cost of the deal against comparable mortgages for the time that you may be fixed to the rate. I particularly like the fact that this deal has very low lender charges and releases any obligations after 5 years."
To find out more, you can call TSB directly on 0330 017 4032.
If you'd prefer to get advice on finding the right mortgage, get a free callback from a mortgage adviser.